Nanoil Hair Oil
Capacity: 100 ml
Nanoil – the power of nature for your hair in form of hair oil with velvety formula with a beautiful fragrance and perfect blend of active substances. It is an entirely natural product with versatile action. Nanoil hair oil provides hair with healthy-looking appearance, protection against damages, noticeably beautifies, eliminates scalp problems and stimulates hair growth. Determine your hair porosity (condition) and choose the one hair oil for yourself among the three luxurious Nanoil hair oils, which are loved by women all over the world and approved by the specialists.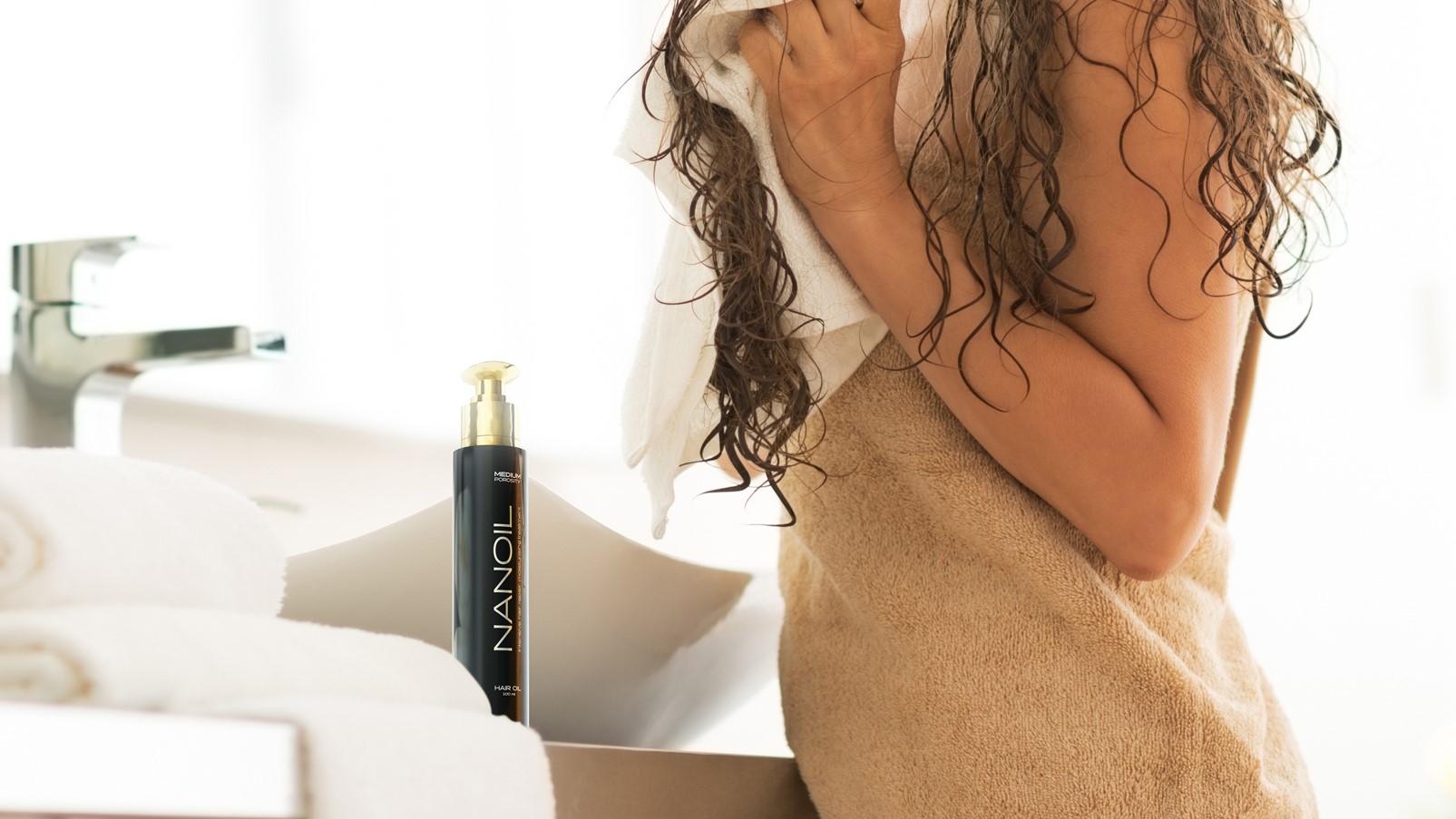 For whom?
This is the only hair oil recommended for every hair type. The thing that differentiates it from other "universal" hair oils is that it is available in three versions. Every version has components chosen to match hair type with given hair structure. Among Nanoil hair oils everyone can find the perfect product, regardless your hair is damaged, thin or requiring protection. Nanoil hair oil is a versatile treatment:
for hair lacking volume, difficult to style and that dry for a long time (Nanoil for low porosity hair),
for frizzy, matte, brittle, weak hair prone to damage (Nanoil for medium porosity hair),
for damaged, dry, matte, rough hair with split ends (Nanoil for high porosity hair).
At the same time, it needs to be said that Nanoil hair oil is recommended for people suffering from excess hair loss or those people who want to stimulate hair growth. It is a great solution for those of you who prefers effective hair oil treatment focused on various problems of hair and scalp. An interesting thing is that Nanoil hair oil is suitable for use on the men's beard. Everyone will find a use for Nanoil hair oil.
How does it work?
Nanoil hair oil, regardless the version, works deep inside the hair and scalp. You can apply it on the hair length, just the tips, on the scalp or try complex treatment. First results of regular treatment you observe after about 30 days, though hair is visibly smoother and shiner after the very first use.
Nanoil hair oil is:
DEEP REGENERATION – restores keratin structure inside the hair, seals hair cuticles, strengthens hair bulbs and hair itself on the entire length;
TAMED STRANDS – prevents frizzy hair, facilitates combing and styling, emphasises coil, ensures volume boost, speeds up drying time and smoothers hair;
HAIR GROWTH STIMULATION – activates and strengthens hair bulbs, inhibits excess hair loss and baldness, stimulates old and new hair growth, including baby hair appearance;
VELVETY SOFTNESS AND GLOSS – ensures highlights, noticeably smoothers, provides lightness and softness, intensifies colour and prevents colour from washing out;
NOURISHMENT AND VITALITY – regulates hydration level in hair and scalp, delivers essential nourishing components and balances skin pH;
PERFECT PROTECTION – coats hair with a light protective layer, provides heat protection during the styling, protects against harmful sun exposure and toxins, etc.
More on the Nanoil hair oil action read on the manufacturer's webpage:
What is in the composition?
The possibilities provided by the natural oils, here are used to the maximum. The components in each of Nanoil hair oils were chosen to meet hair of different structure and needs. It an exceptional blend of oils with curious properties, vitamins, UV filter, nourishing substances and hair growth stimulating ingredients. Nanoil hair oil is free from paraben and silicone, so is entirely natural and its formula is a work effect of the best specialists.
The composition is as follows:
NANOIL FOR LOW POROSITY HAIR – pine oil, coconut oil, argan oil, castor oil, shea butter, passion fruit oil, UV filter, kerastim, babassu butter, monoi oil, cupuacu butter, panthenol, tocopherol, retinol.
NANOIL FOR MEDIUM POROSITY HAIR – macadamia oil, argan oil, marula oil, jojoba oil, passion fruit oil, coconut oil, UV filter, kerastim, silk, tocopherol, retinol.
NANOIL FOR HIGH POROSITY HAIR – sweet almond oil, argan oil, evening primrose oil, avocado oil, passion fruit oil, lanolin, UV filter, kerastim, cottonseed oil, panthenol, silk, tocopherol, keratin.
The details on the action of all components search for on the products official webpage.
What is the formula like?
Nanoil hair oil is a feather-light product with great absorption and effectiveness ensured by even the minimal amounts. It has the beautiful aroma that lasts on hair for a long time. Each application coats strands with velvety layer free from weighing down or greasiness.
How to use it?
This product is perfect for hair oil treatment due to the natural formula that allows application both on the hair and scalp. Regularity is of the highest importance, while the method depends on individual needs. Apply Nanoil hair oil on dry or damp hair, before or after hair wash, before styling for protection against heat and to speed up drying time, or even apply it on the hair and scalp overnight. The application method adjust accordingly to the time and expectations. The more frequent application and the longer the oil is left on, the deeper and more intense regeneration.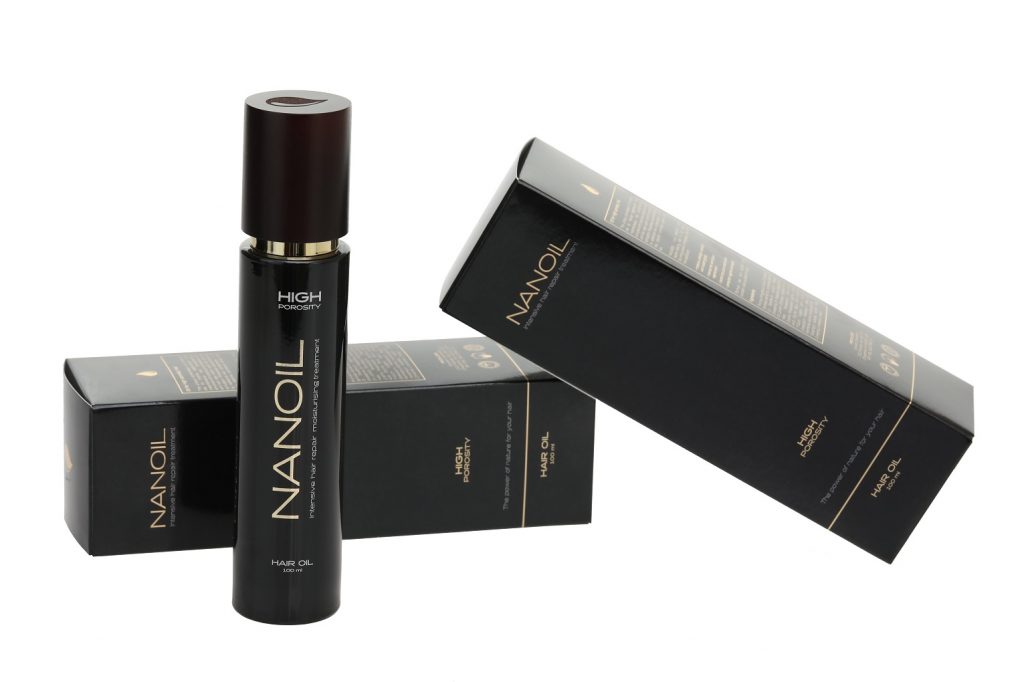 OPINION
Hair stylists love it for feather-light formula, women love it for natural composition and great effectiveness. However, the greatest Nanoil quality is that it has three versions that contain components matching different hair types. Another benefit is the highest quality, best ingredients and composition enhanced by additional nourishing and hair growth stimulating substances. It is great hair and scalp oil with deep and long-lasting action. It absorbs perfectly and its fragrance is truly beautiful. The only problem may be caused by the difficulty in determining hair porosity before the purchase. Well made and elegant bottle presents itself great, but it is easy to leave fingerprints all over it. All in all, Nanoil is perfectly designed natural support for every hair type.
Manufacturer's webpage: nanoil.us