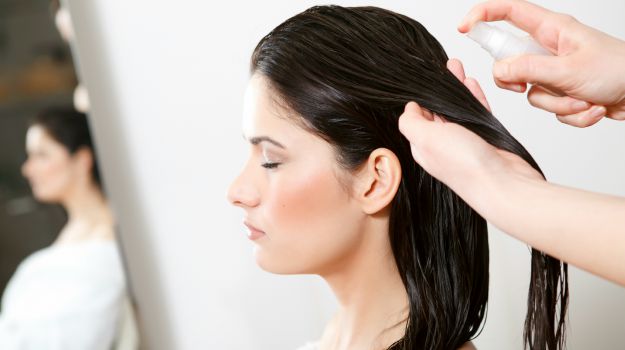 WHAT KIND OF HAIR CONDITIONER SHOULD YOU BUY?
Hair conditioner is an irreplaceable source of nourishing ingredients essential for proper functioning of hair. Follicles should be supplied mostly with vitamin and mineral complex as well as other nourishing ingredients (e.g. unsaturated fatty acids), because thanks to them hair preserve healthy appearance, are strong and grow uninterruptedly. For hair to be in a good condition, balanced diet may not be enough, because nourishment on the outside is also extremely significant.
Choice of hair conditioner is much more important than purchase of shampoo, because the task of shampoo is mainly to cleanse hair and scalp. Sadly, often it is the other way round – you thoroughly choose shampoo and the other product buy at random, taking into consideration only the price of conditioner. In fact, not price should be decisive factor upon choice of good conditioner, but opinions about given product and its composition. Only those two elements can show you if you deal with full-value product right for your hair.
Hair conditioner should contain natural ingredients, best rich in essential fatty acids vegetable oils (e.g. coconut, argan, almond, castor, jojoba, which should not be mistaken for essential oils that are bad for hair) and vegetable extracts rich in minerals and vitamins. The more natural ingredients in conditioner the more clear composition and better for hair. On top of that, ingredients of conditioner should match your hair type.
You should avoid products with very chemical composition, because ingredients from such conditioner will not be beneficial for hair, despite surprisingly positive results in a matter of short period of time. The greatest enemy of hair care are silicones, which are helpful only if you need fast smoother and to tame your wild streaks before, e.g. night out. Otherwise, silicones will weight your hair down. List of substances present in the most popular products, but harmful to hair can be found online. You should always check rankings of hair conditioners, where are viewed opinions of consumers about given product.
While choosing conditioner you should pay attention to the method of application, which should be simple and suit your needs. Owners of fine and straight hair should not buy leave-in conditioners, because such products additionally weight hair down, making them unattractively flat. Heavy products are more helpful to people with frizzing, thick and hard to tame hair, which may benefit from additional weight. The most important are opinions about hair conditioners, because not every time, what manufacturer promises is what you will actually get.
Hair Conditioner and HAIR OIL
Natural oils define the revolution in hair care. How should you take care of your hair? When deciding on the conscious care you should never use the second best cosmetics. Choose those matching hair needs and that are able to answer all the problems, not just some of them. Unfortunately, hair conditioners lose this battle. Hair oil treatment is definitely more versatile hair care method. Here are the most important reasons to back the decision of choosing hair oil instead of hair conditioner.
Hair conditioner is used only on hair, because of its clogging action. While hair oil is suitable also for application on the scalp.
Hair conditioner may contain natural components, but these are always accompanied by artificial substances. Hair oils are entirely natural and take from nature what's the best.
Hair conditioner formula is not suitable for every hair type because it is thick and full-bodied. However, natural oils are feather-light and absorb better.
Hair conditioner works only on the surface and does not penetrate inner hair structures. At the same time, well-chosen hair oil has a great impact on the deep inner hair and scalp structures.
Using hair conditioner is just a temporary solution and effect will last only until the next hair wash. On the other hand, hair oils by influencing inner hair structures provide long lasting results.
Every hair conditioner has similar, clearly determined method of use and it usually requires to be washed down. Hair oils can be used as you wish, with any method.
Instead of testing another hair conditioner, just reach for the hair oil. Choose such that is recommended by most women and was tested by the specialist. Then you are certain that you have cosmetic with the highest effectiveness, perfectly composed ingredients that can be the truly great replacement for the conditioner.
Below ranking contains key information on the subject of the most popular hair conditioners in various prices. Carefully gathered and selected information about hair conditioners from the top brands will allow you choice of the perfect product for your needs. Honest opinions featured in the conditioners ranking should make choice and purchase of ideal hair care cosmetic much easier.
WHAT DO HAIR EAT?
For proper functioning and beautiful appearance, hair need complex of vitamins, minerals and nourishing ingredients. If the diet is balanced and rich in full-value substances, from the food is being obtained lumber for hair. Greatest part of hair care is based on matching it with the dietary needs. What if hair are damaged and dry despite proper diet? What if diet does not help with improvement of hair condition? To the rescue come outside ways of conditioning, i.e. use of hair conditioners.
The diet itself is never enough for preservation of good hair condition. Not all micro- and macro-elements can be ingested in right amounts only from food. Constant watching over not missing any nourishing ingredient in the food can be tiresome and cause that healthy food will not be pleasurable any more. On the contrary it will turn into annoying obligation. Fortunately, all essential ingredients can be delivered to skin and hair on the outside, you just need to invest in good quality hair conditioner (you can choose right product by reading opinions present in the above ranking).
Demand of hair for nourishing ingredients involves mostly all minerals, which can be found in food products, but are also appreciated by cosmetic manufacturers. Hair require some minerals in larger amounts, when other can be delivered in the trace amounts. However, those are not specific values, because it all depends on how large deficits of given mineral are in the organism, what the condition of hair is and what the problem is.
Ca is for Calcium
Deficit of calcium significantly weakens hair and influences their dryness, Split ends, brittle hair that resemble hay with raised cuticles, which are an open way for impurities to get to the inner hair structure – those are problems related to calcium deficit.
Cu is for Copper
Hair elasticity is provided by collagen that is a natural hair lumber. With age there is less collagen in the organism and skin and hair become to weaken. Hair delivered with copper age slower and has great influence on right collagen level in hair.
Fe is for Iron
Iron in a natural way supports cellular respiration, i.e. process providing stem cells of hair with energy. Iron deficit can lead to baldness, hair weakening and prevention of hair from growth, which depends on the level of iron in the organism.
I is for Iodine
Seaside air is definitely beneficial for elastic, thick and glossy hair, because of its high amount of iodine. After all, deficit of this element influences greasing of hair, hair loss and dandruff. Iodine can eliminate those problems.
Mo is for Molybdenum
Even small amount of this element can support skin protection against follicles inflammations and pimples. Molybdenum supports healthy, glossy and soft hair, and right level of this element in organism influences hair subjection to stylisation.
P is for Phosphorus
Phosphorus is one of the basic minerals essential to hair, because it strengthens them and aids their growth. Those are not the only merits of phosphorus for the organism, because this element also ensures hair with bounce, healthy gloss and general appearance improvement.
S is for Sulphur
One of the elements of which hair are made are disulphide bridges; the more the stronger and more elastic are hair. For this reason it is important to take care of right level of sulphur in the organism, because it limits hair loss and is responsible for hair thickness.
Se is for Selenium
As most minerals, selenium also has its contribution to the hair elasticity. However, this is not the only benefit of this element, because selenium also prevents dandruff and indicates anti-fungal and anti-bacterial properties, which are really important for the scalp.
Si is for Silicon
Lack of silicon in the organism can result with matt, weak and difficult to tame hair. What is more, skin suffers irritations and occurring dandruff. Silicon provides hair with vitality and natural gloss, that is an indicator of healthy hair.
Zn is for Zinc
Zinc is also key ingredient that takes part in creation of keratin in hair and controls sebaceous glands work in the skin. Deficit of zinc means hair loss and matt hair that do not grow as fast as they should.