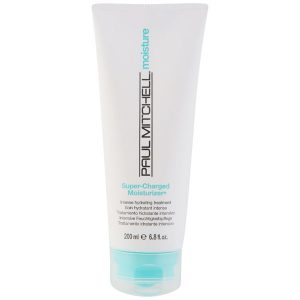 Hair conditioner from Paul Mitchell with highly moisturising properties is one of the best products for improvement of elasticity and gloss of hair. Super-Charged Moisturizer is a strength activator with long lasting influence on hair, based exclusively on natural ingredients. It is worth to mention that Paul Mitchell is one of first brands that stood against animal tests.
For whom?
Paul Mitchell Super-Charged Moisturizer is perfect for all hair types that need moisture. Every week treatment with this hair conditioner will provide proper level of hydration to hair and scalp. Product is recommended to all people who have matt and dry hair in need of optimal conditioning.
How does it work?
Super-Charged Moisturizer is most of all moisturising conditioner, that at the same time ensures hair with complex regeneration and strengthening. Use of Paul Mitchell conditioner provides five key benefits.
INTENSE MOISTURE – control of hydration level and moisture;
ELASTICITY BOOST – hair are more elastic and easier to comb;
GLOSS IMPROVEMENT – intensive and healthy gloss;
REGENERATION – repair of damaged hair cuticles and hair thickening;
NOURISHMENT – complementation of active substances deficit and volume boost.
What is in the composition?
Properties of Paul Mitchell conditioner are based on rich in nourishing substances formula made of natural ingredients, that was patented and reserved by the brand. Among many substances in moisturising hair conditioner, following are present:
PANTHENOL – regenerates and protects by penetrating deeper hair structures and settling on hair surface,
SOY PROTEIN AND SHEA BUTTER – indicate moisturising and softening properties,
VITAMIN E – provides nourishment, protection and vitality restoration,
AWAPUHI COMPLEX (bitter ginger) – ensures intensive moisture and gloss boost,
ACTIVE COMPLEX (chamomile, rosemary, aloe, jojoba) – intensive gloss.
What the formula is like?
Hair conditioner Super-Charged Moisturizer can be bought in two different capacities (200 ml/7.04 oz. or 500 ml/17.6 oz.) where the larger version has much easier packaging equipped in pump, that extends durability of cosmetic. Conditioner is quite thick and creamy, but its application causes no greater problems. What is more, its scent is delicate and pleasant.
How to use it?
Application of Paul Mitchell Super-Charged Moisturizer is no different from application of other products of this type. It needs to be administered evenly on clean and slightly dried hair. It is best to leave it on for few minutes for active substances to absorb and then rinse it.
OPINION
The greatest quality of Paul Mitchell conditioner is entirely natural composition, developed in a way that makes Super-Charged Moisturizer target particular needs; in this case dry and matt hair. Beside precise properties, big plus is also pleasant consistency, non-irritating scent and efficient formula. However, price of this intensively moisturising hair conditioner is quite high, so you might expect more from it than moisture, strengthening and gloss.
PRICE: £30.00 for 500 ml/17.6 oz.
Paul Mitchell – Super-Charged Moisturizer
Efficiency: -

8/10

Compliance with the producer's claims: -

8/10

Quality vs. Price: -

7/10

Package: -

6/10

Fragrance: -

7/10